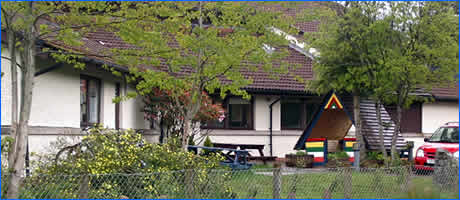 Our school is 11 miles from Craignure. It is in Salen on the pier road. Our school is an eco-school. We got our first green flag on the 11th of June 2009,
At the back of our school we have a garden where we grow fruit and veg.
 
 Tha an sgoil againn 11 mile a Creag an Iubhair. Tha e air an Pier Road. 'S e eco-school a th'annainn. Fhuair sinn a' chiad bradach uaine air an 11mh dhen t-Og Mhios 2009.
Our school is an eco-school. That means we try to help the environment as much as we can. We reduce, reuse and recycle. We also do what we can in our school grounds to help the wildlife, such as birds, mini beasts and small mammals. We grow some fruit and veg in our school gardens too.
'S e eco-school a th'annainn. Bidh sinn a cuideachadh na h-arainneachd. Bidh sinn ath-chuairteachadh, ath-chleachdadh, agus a' lughdachadh. Bidh sinn a' cuideachadh na beathaichean ionadail, mar eòin, mamalan beaga, agus meanbh-bhiastagan. Cuideachd, tha gàrradh againn agus bidh sinn a' cur measan agus glasraichean ann.
Head Teacher: Mairi Maclean
Salen Primary School
Salen
Isle of Mull
Argyll
PA72 6JL
Tel: 01680 300348